Champion Sanderling's Clover Rail
2000 Wisconsin Cover Dog Championship
2000 west Branch All-Age Winner
2001 West Branch All-Age Winner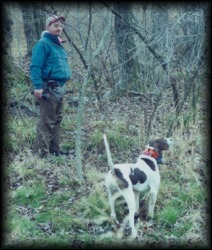 "Clover" with trainer Robert Ecker Jr. Clover is owned by Gregory Callimanopulos of New York.

Clover is truely one of the greatest grouse dogs we have ever had the pleasure of working. Winning the 2000 Wisconsin Cover Dog Championship over a field of 55 competitors, Clover is currently leading in points for the Kasco top cover dog in the country. We are planning a litter sired by Clover this spring. Please see our puppy section for more details.
Some of the qualities Clover Rail will pass along to his offspring are a straight tail, superior nose, and desire to find birds.
Sire

CH Rambling Rebel Rail

Dam

Vermont's Dancing Rhonda